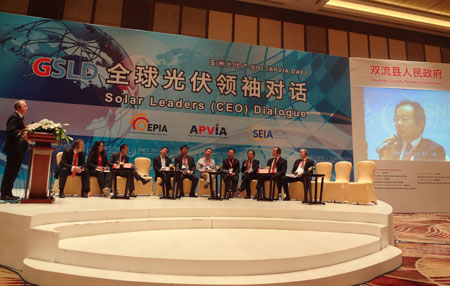 May 13 afternoon, the global PV leaders' meeting was held in Shanghai Kerry Hotel. The meeting was hosted by the Asian Photovoltaic Industry Association (APVIA), invited the European Union, Asia, North America's industry sector leaders, industry mainstream corporate CEO, academic experts, market analysis, financial institutions and media representatives and the public together to share, explore and sustainable development of photovoltaic industry and the market development strategy in Europe, Asia, North America. Zhongli talesun's chairman Wang Boxing attended the meeting and spoke at the meeting.
Boxing Wang noted that the current Chinese PV industry is very grim, after the USA's "double reverse" on China, the EU has also launched a punitive tariffs on Chinese solar companies, it caused a serious impediment to the development of holistic PV companies ,Chinese PV companies have fallen into losses, bankruptcy . Shipments of low-price competition mode of operation, has been unable to save the business's profitability or survival.
Zhongli talesun is the recruit in the photovoltaic industry, the company focused on the introduction of advanced technology, automatic equipment ,and reflected the advantage on labor costs, management costs, and quality since its foundation. In the past three years, Zhongli talesun always carrys advantages, rational competition, determined not to participate in low-cost competition, does not take any loss orders, and for an overall consideration, initiative reduced component production. Since May 2012, although the PV module has a huge demand in the domestic market, but Zhongli talesun didn't focus on component sales. Because the sell prices are lower than the cost price, and loan recovery is very difficult. If you make selling at a loss, in blind competition,it is not conducive to the development of enterprises, but also not conducive to the development of the whole industry.
Wang Boxing thought the rational competition within the industry is a must for the healthy development of the company and industry. He called photovoltaic business counterparts should be rational competition, playing the price war will not only hurt their own business, but also may cause more overseas anti-dumping, endangering the Chinese PV industry.
Boxing Wang has always stressed that only the closure of enterprises, there is no collapse of the industry. Price competition is definitely not the only way to make the photovoltaic industry turnaround, only unite industry strength, build profitable photovoltaic, can revive the industry, and leads to the survival and development of enterprises. He pointed out that the focus on extending the industrial chain development, investment and development of photovoltaic power plants, photovoltaic business is a practical way at this stage, however,if the enterprise have huge losses, it is also difficult to be developed power plant financing. He hoped that the domestic photovoltaic solar companies learn from the solar glass industry enterprises to unite to tide over the crisis as soon as possible, work together to promote the healthy and orderly development of the photovoltaic industry.