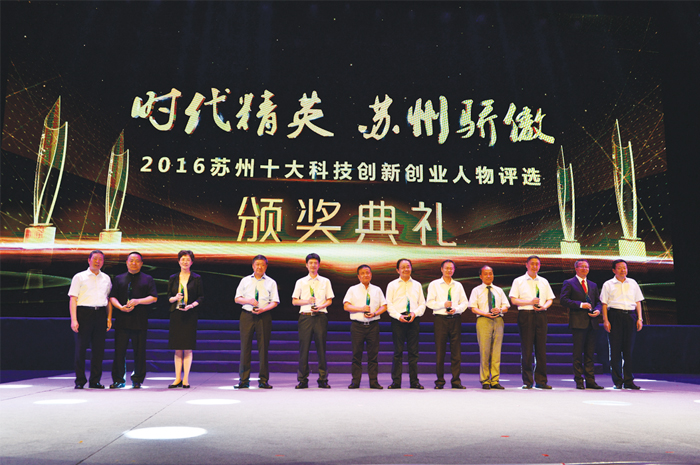 On July 8, Suzhou Municipal Economic and information technology committee and Suzhou Municipal Science and Technology Bureau and other departments jointly organized the "era of the elite Suzhou proud" - 2016 Suzhou ten scientific and technological innovation and entrepreneurship character awards ceremony in Suzhou culture and Arts Center. From all thousands of entrepreneurs, zhongli Sci-Tech Group Chairman Wang Baixing successfully won the "Suzhou City Science and Technology entrepreneurial elite Award", Suzhou municipal Party committee secretary zhounaixiang, Suzhou municipal Party committee, deputy secretary, executive vice mayor Zhou Weiqiang, Suzhou Municipal Committee, Party Secretary Wang Shaodong (Kunming Metallurgy Research Institute) and others attended the ceremony.
In recent years, ZhongLi science and technology continues developing , this is the result of Wang Baixing's "increase the technological transformation" strategy, in recent years in terms of scientific and technological innovation has been enhancing , last year, our pre-fiber product was successfully producted , as well as our titanium metal 3D printing, and we creativly invented the "million agricultural ecological photovoltaic" projects in China, we successfully developed dozens of new products, and in total approved patent 142, including 24 invention patents, declare approved all kinds of scientific and technological project , Especially ZhongLi Sci-Tech Group's subsidiary of ZhongLi Talesun, in recent years's rapid development. Began in 2011, ZhongLi Talesun faced the photovoltaic industry reshuffle, PV module prices plummeted, many photovoltaic enterprise went bankrupt, and even cut layoffs, however, in ZhongLi Group faced "crisis" as "opportunities", with the parent company's strong support, ZhongLi Talesun bold exploration and innovation, with advanced vision and ideas we overcame all the difficulties. For example we have all of the best machines from Germany, Japan, Italy and the world's most advanced technology of automatic production line,which reduce 60% of the operating personnel. Second, we pay attention to high-quality, high return to win the market and brand, in May 2012, the German TUV in Shanghai issued ZhongLi Talesun the first VDE standard certification after inspecting the production site. ZhongLi Talesun used less than two years to get all the certificates, to bring to market high quality products. Three, with a long-term vision in developing photovoltaic power plant business, focusing on the development of large power plant at the same time, the innovation and development of "fishing light complementary and efficient ecological agriculture, ecological PV projects" optimizes the culture conditions, enhances comprehensive land effective utilization of resources, improve the local government a number of land output efficiency, this innovation will be built in photovoltaic power plant after let local government leased the land to the photovoltaic project to obtain a sum of income, and then rent a sum of income to farmers planting and breeding for, this can not only increase the economic benefit of local government, and enhance the comprehensive effect of social ecology, in order to make a contribution to ecological and environmental protection in our country. 2015 in Thailand, Xinjiang, Inner Mongolia and other places to invest in new factories, in 2016 to achieve sales of 1GW components, 1.5GW power plant project to provide a strong guarantee.
In 2016, ZhongLi Science and technology group implemented central poverty alleviation precise requirements, accelerated the realization to get rid of poverty and become rich, and "million agricultural ecological photovoltaic project of innovation and invention, with innovative and efficient agriculture, a variety of farming organic combination of solutions, including planting rice, wheat farmland over the construction of ecological photovoltaic, innovation and lead the world.