On October 31, the 10th China (Wuxi) International New Energy Conference & Exhibition (CREC2018) was reopened in Wuxi, and hundreds of PV companies gathered in Wuxi for a grand event. In the annual awards ceremony held in the evening, Zhongli Group-Talesun Photovoltaic Technology Co., Ltd. was awarded three awards such as "2018 Poverty Alleviation Award", "2018 Excellent PV Module Enterprise" and "2018 Excellent PV EPC Enterprise". .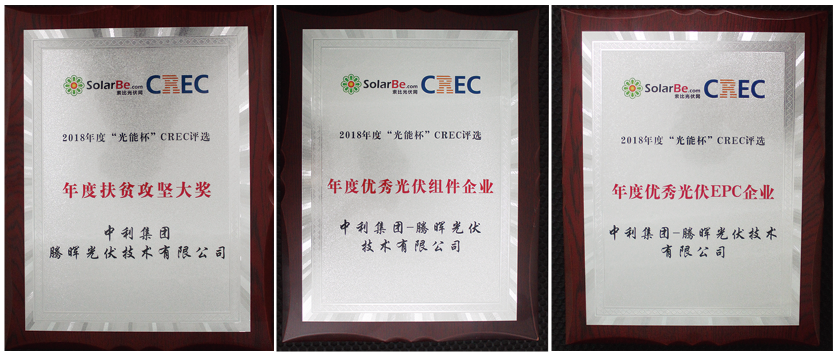 The selection of this conference was co-sponsored by Solarbe Sobi Photovoltaic Network, China (Wuxi) International New Energy Conference and Exhibition CREC, and "Light Energy" magazine. Its selection has been devoted to the inventory of various industries in the photovoltaic industry in the past year. New technologies, black technology, excellent enterprises, smart factories, successful successful enterprises, industry leaders, and selection and commendation have attracted the active participation of hundreds of heavyweight enterprises in China's photovoltaic field.
The "2018 Poverty Alleviation Award" was the first heavyweight award presented at the award ceremony. Talesun Photovoltaic won the award for its outstanding contribution in the field of poverty alleviation. Since 2015, Zhongli Group-Talesun Photovoltaic has been involved in the photovoltaic poverty alleviation business. Up to now, it has invested in the construction of "poor village photovoltaic farms" for 73 poverty-stricken counties across the country, helping more than 700,000 people out of poverty. In the next three years, Zhongli Group will continue to promote village-level photovoltaic poverty alleviation, and plans to cover 200 poverty-stricken counties and 15,000 poverty-stricken villages, benefiting more poor people. PV poverty alleviation has achieved remarkable results. Talesun PV "Poverty Village PV Farm" has been recognized by governments at all levels in poverty-stricken areas, and has also received high attention and special reports from mainstream media such as People's Daily and CCTV.
Talesun PV launched the "Poverty Village PV Farm" precision poverty alleviation project, which helps the poor villages to build village-level poverty alleviation power stations. The property rights of the poverty alleviation power stations after completion are collectively owned by the poor villages. Compared with the traditional "Nongguang Complementary" project, "Poverty Village PV Farm" applies innovative technology in component brackets, pile spacing and veneer components and inclination, which not only realizes large-scale mechanized farming, but also satisfies 75% of crops. It can grow food crops. Zhongli Photovoltaic Agricultural Research Institute provides agricultural technology support for poor households, helping them to plant various kinds of characteristic economic crops in "photovoltaic farms", and also drives poor farmers to farm employment, and realizes "photovoltaic+" for the construction of stable villages. Agriculture + employment" 20 years of stable income from poverty alleviation, promoting "transfusion-type" poverty alleviation to "hematopoietic" poverty alleviation.
At this awards ceremony, Zhongli Group won three awards in different dimensions, demonstrating the company's strong brand influence in the industry. The company's products are exported to more than 70 countries and regions such as Europe, America, India, Southeast Asia and the Middle East. At the same time, as a leading enterprise in the field of photovoltaic EPC, the company actively responded to the national "Belt and Road" and accelerated the pace of transformation and upgrading. The global development and construction of solar power projects has exceeded 5GW.
The company will continue to strengthen product technology innovation and "photovoltaic +" model innovation, and constantly explore, to lead the market with more efficient and higher quality products, promote the development of the industry, and contribute to the early realization of photovoltaic parity online.