On September 2nd, at the 2018 China Top 500 Enterprises Summit with the theme of "Strive for the World's First-Class: The Development of Large Enterprises in the New Era", the China Enterprise Confederation and the China Entrepreneur Association released the "Top 500 Chinese Enterprises" and "2018". A list of the top 500 Chinese manufacturing companies. A total of 52 enterprises in Jiangsu Province were short-listed, and Zhongli Group was one of the top 500 Chinese enterprises for the first time.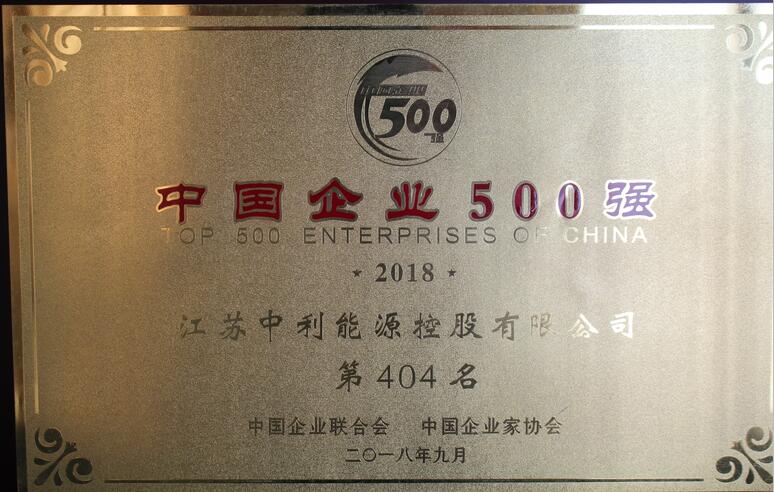 In the past 30 years, Zhongli Group has adhered to the enterprise spirit of "integrity, dedication, unity and innovation". The existing industry has covered special cable, fiber optic cable series, new energy photovoltaic, polymer new materials, military electronics, titanium 3D printing, etc. In the industrial field, and innovation has achieved the industry's leading level.
Since 2015, Zhongli Group has invented "smart photovoltaic + technology agriculture" and launched "Poverty Village Photovoltaic Farm" in 471 key poverty-stricken counties in the country to help poor villages achieve "photovoltaic + agriculture + employment" for 20 years. Stabilizing the benefits of poverty alleviation. At the same time of photovoltaic power generation, photovoltaic farms carried out special breeding, characteristic high-efficiency agriculture, sightseeing and other superimposed incomes to get rid of poverty, which has won unanimous praise from governments at all levels. In 2017 alone, more than 700,000 poor people have been lifted out of poverty. This innovative model has been used by the State Council Poverty Alleviation Office as a reproducible key promotion project for poverty alleviation in industries.
At the same time of the development of Zhongli, we did not forget to feed back the society and created more social values. This is the original intention of Wang Baixing, Chairman of the Board of Directors of Zhongli Group.