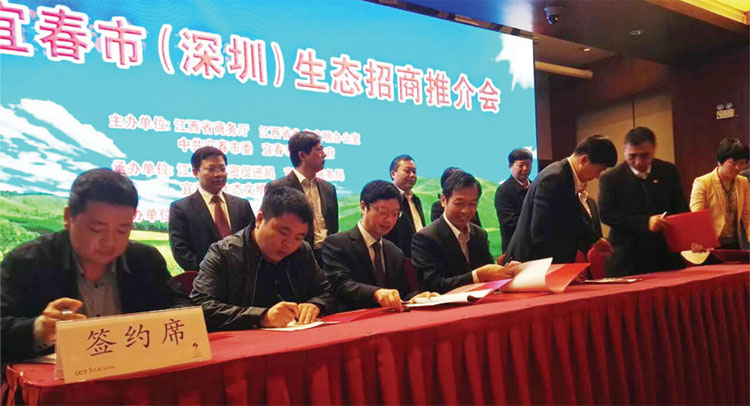 On March 24 in the afternoon, organized by the Jiangxi Commerce Department, office of provincial ecological civilization demonstration district construction leading group and municipal party committee, municipal government the ecological investment promotion seminar of Yichun city (Shenzhen) was held in PengCheng. Tao liping the vice president of JiangXi Commerce Department, Deng Baosheng the president of municipal party committee, Wang Baixing the oand other leaders. In the science and ZhongLi Sci-Tech Group chairman Wang Bai the Chairman and Chen Bohan the president of ZhongLi Sci-tech Group attended the meeting.
At the conference, Chen Bohan signed the efficient photovoltaic (PV), ecological and agricultural investment construction project with the government of ZhangShu City on behalf of ZhongLi Sci-Tech Group, it's a project with the total investment of nearly hundred million, to construct the 1GWefficient photovoltaic agricultural ecological project, and develop modern, efficient agriculture and agriculture for poverty alleviation. ZhongLi Talesun plan to finish 1GW efficient ecological photovoltaic power generation project in three years and at the same time to ensure that the area of 1GW efficient photovoltaic power station (35000 acres) can be used to develop the modern high efficient agricultural.
The WanNong ecological project is an innovation of efficient agriculture light complementary projects, can both optimize the agriculture conditions and promote the land comprehensive effective utilization, and improve the efficiency of the land.
The WanNong ecological project signed by people's government of ZhangShu cityand ZhongLi Talesunwill be the demonstration base of efficient of solar promotingagriculture, this project will deeply promote thedevelopment of ecological agriculture, efficient photovoltaic (PV) industry ,upgrade the levels of intensivenessand scale of the PV promoting agriculture industry, booster economic development, social and ecological progress of ZhangShucity.