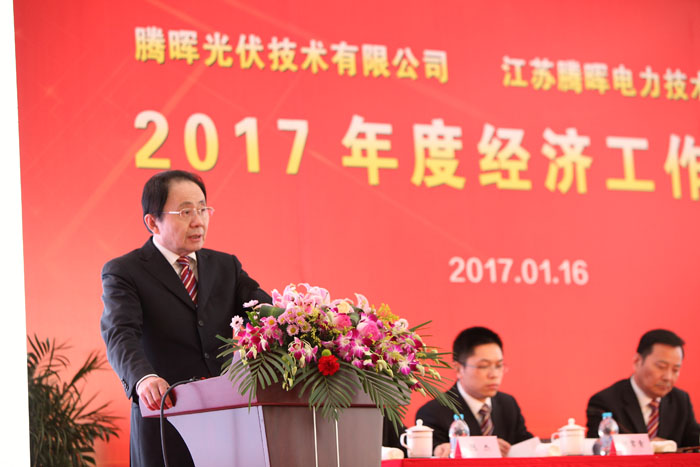 January 16, the 2017 annual economic work conference of Suzhou Talesun Solar Co., Ltd., and Jiangsu Talesun Power Technology Co., Ltd. opened grandly on the first floor of Talesun report hall. Mr. Wang Baixing, the Chairman and President of Zhongli Group made a work report around the 2017 annual management targets, and all the participative leaders joined the discussion to ensure the smooth operation of the line.
At the meeting, Wang Baxing carried out a brief review of the work in 2016, around the Talesun technology innovation invented "million farmers ecological photovoltaic", innovation launched "photovoltaic poverty alleviation farm", technological innovation product development, scientific and technological achievements, overseas markets and other aspects to analyze the influencing factors of Photovoltaic industry and the domestic and international market changes, he also made a long-term plan for the work of 2017, around the target and full mobilization. Mr. Wang Baixing also thanked all the departments of the contribution in their own work, company building, technological innovation, activities, publicity and business development and other aspects, and encouraged everyone to unite and work together to create brilliant.
Wang Baxing and the line in charge of the staff signed a letter of responsibility for the work of 2017. 2017 is the opportunity of Talesun to accelerate the development and to upgrade the technology comprehensively. We have the firm believe that we can accelerate innovation and development model, and increase the work of assessment efforts. Talesun will become the leader in the industry with clearer mind, updated ideas and development model, mainly in scientific and technological innovation, and use "with all the way" overseas development as a new opportunity.
After the meeting, Initiation Party 2017 was held in Talesun Executive Restaurant, everyone gathered together to welcome the new spring. At the beginning of the party, Wang Baxing greeted all the staff with cordial greetings and good wishes for the New Year, inspiring all the staff of the company to achieve brilliant achievements in 2017.
The party ended successfully in a harmonious, warm, happy atmosphere, we farewell to the challenge of 2016, ushered in the hope of 2017.Looking forward to the new year, as the only use of aluminum alloy stent innovation "photovoltaic poverty alleviation farm" leader, Talesun is the largest domestic photovoltaic power plant development, quality first leading enterprises, and our goal is turning the "China Manufacturing " into " China's innovation ", so that the global" photovoltaic industry "and" science and technology agriculture "can enjoy the simultaneously innovation and development for the world's poor farmers to achieve" income out of poverty "to make new contributions.