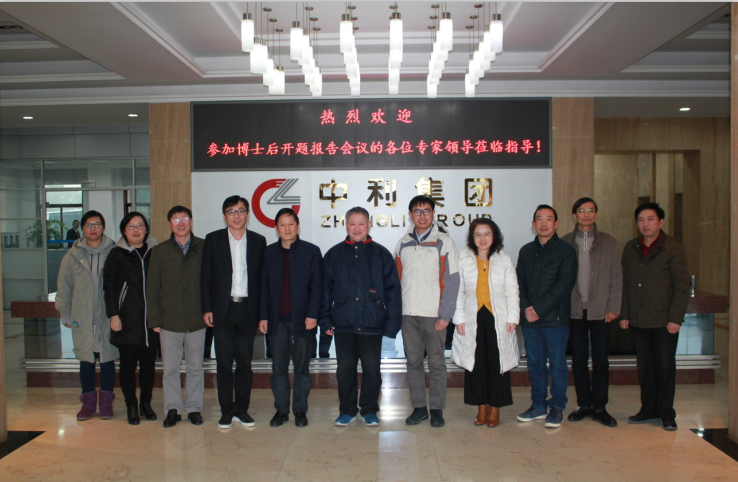 After years of operation, the postdoctoral workstation of Zhongli Group has formed a scientific and technological innovation platform for doctorate participation, enterprise management and market operation. Zhongli Group held a postdoctoral thesis report meeting on 25th,Jan. 2017, we have below leaders and experts attended this report, they are: Professor Yuan Hui lin, from Beijing University of Chemical Technology; Professor Bin Yue zhen, from Dalian University of Technology; Professor Zheng Yu bin; Professor Chen Dian Yu, from Changshu Institute of Technology; Vice Director Shen Jian xin , from Changshu human resources and Social Security Bureau; Deputy township head of Sha Jia Bang Town, Changshu City, Yao Cai lian, and etc.
Zhong li Group has jointly educated Doctor Song Wang ze with Dalian University of Technology, his Postdoctoral research subject is : High performance high temperature resistant polymer composite and its application in the study of heating cable. Dr. Song Wangze reported on the background and significance of the subject, research ideas, research content, research program, expected goals, innovation points and so on.
The experts listened to Dr. Song's report, asked questions and inquired, and put forward valuable Guiding Opinions on how to improve the research in the station. Through the comprehensive evaluation of members of the expert group, it is considered that high performance and high temperature resistant polymer composites are widely applied in the field of heating cables and other technologies due to their outstanding high strength, low density, corrosion resistance, high temperature resistance and impact resistance. Dr. Song Wangze's research topic combines the actual social needs and theoretical research needs in the field, so its topic has high theoretical significance and practical application value. The technical route project is feasible, reasonable arrangement, and intends to use chemical copolymerization or (and) physical blending method modified peek resin, is expected to further improve the heat resistance and processing properties of PEEK resin, the blending modification method of PEEK resin is expected to solve the problem of high cost, the research content is innovative. In line with the strategic direction of development in the Zhongli Group. After discussion by the experts, it is agreed to this research plan.
Shen Jian xin(Vice Director from Changshu human resources and Social Security Bureau) has fully affirmed the achievements of the post doctoral research station of Zhongli group, and hopes to continue standardization and institutionalization, do well the management of postdoctoral workstations, strengthen the assessment of doctoral research and form a good training mechanism. Chen xin xiang, Vice President of Zhongli Group, thanked the leaders and experts who are attending the conference, and said they would provide good software and hardware support for Dr. Song Wangze's R & D work in Zhongli group, and hoped that can speed up the R&D, not only pay the attention to the effect but also for the Cultivating talents for Zhongli Group. Further promoting the construction and operation of the post doctoral workstation of Zhongli group.
It promoted the cooperation of higher level sub Industry University Research Institute, and brought into full play the support and drive role of post doctoral and its scientific and technological team to Zhongli group's independent innovation, and accelerated the transformation of major achievements.