On September 27th, the 2018 China Wire and Cable Industry Conference was held in Shanghai with the theme of "Responding to the situation and rebuilding the old and new." At the meeting, the list of "Top 10 Most Competitive Enterprises in China's Cable Industry" was announced in 2018, and Zhongli Group was on the list.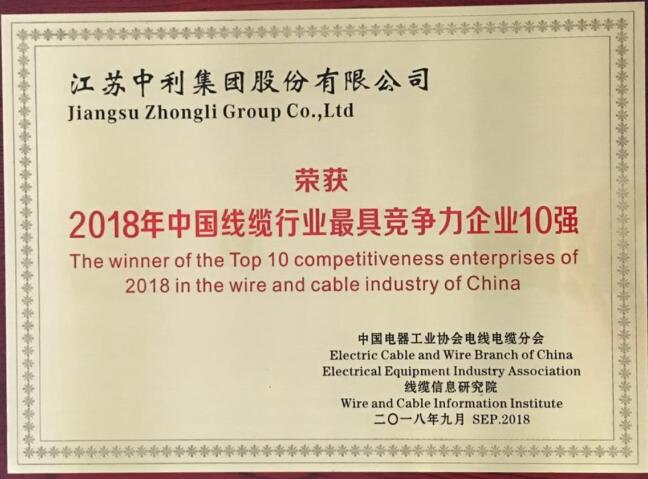 The selection activity was jointly completed by the China Cable Industry Competitiveness Research Project Team consisting of the China Electrical Equipment Industry Association Wire and Cable Branch and Cable Information Research Institute. Through research by industry research and the recommendation of local associations, the research team experts reviewed 9 hard data indicators such as sales revenue, net assets, net profit, and export share, as well as technological innovation, product quality, brand image, and entrepreneur management level. The industry's contribution and other five major soft data indicators have undergone rigorous auditing and data calculation, and visited nearly 100 companies in the field, and conducted in-depth understanding and analysis of the competitiveness of cable companies everywhere, and finally selected this book. The list of the most competitive companies in China's cable industry, the authority and accuracy of the evaluation results are widely recognized by the industry.
Zhongli Group won the top 10 most competitive enterprises in China's cable industry in 2018 with its precise target market positioning, good efficiency, leading technical strength, excellent product quality and comprehensive customer service. Zhongli Group will take this opportunity to further improve product quality and customer service level, enhance technology research and development strength, enhance corporate image and visibility, create more value for customers, and make greater contributions to industry development.