Recently, Jiangsu Science and Technology Development Strategy Research Institute released the list of "2018 Jiangsu Top 100 Innovative Enterprises" to the public. Jiangsu Zhongli Group Co., Ltd. is on the list. The selection of Jiangsu Top 100 innovative enterprises is mainly aimed at the key elements and main links of enterprise innovation, selecting qualitative and quantitative indicators that can effectively reflect the level of innovation development, and formulating the "Jiangsu Province Top 100 Innovative Enterprise Evaluation Index System". Mainly from the innovation investment, innovation output, innovation performance, innovation management, comprehensive evaluation of the level of innovation and development of enterprises, the listed companies have strong independent innovation ability, good economic returns, industry influence, high level of innovation management Four characteristics.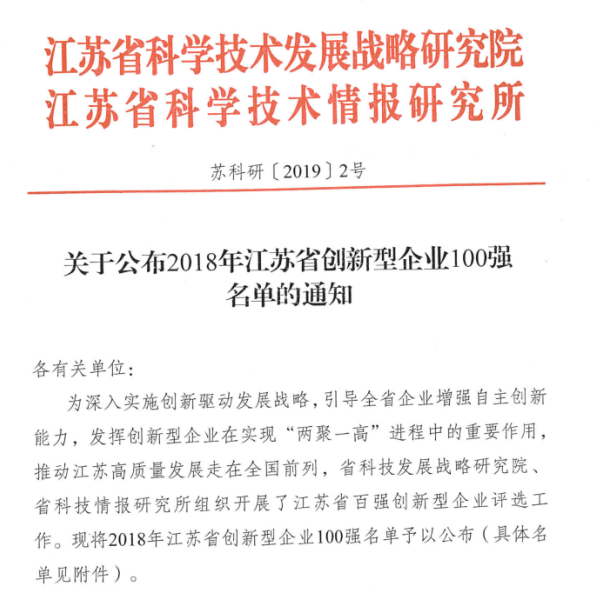 Scientific and technological innovation is the developmental gene of Zhongli Group, and the history of the development of the enterprise is a history of innovation. Zhongli Group has established a national post-doctoral research station, a national CNAS-accredited testing center, a provincial key laboratory, a provincial academician workstation, a provincial excellent enterprise graduate workstation, and an innovative research platform with the city's advanced technology research institute. First-class research and development team. The acquisition of this honor can better reflect the diversified development of Zhongli Group. At the same time, it will increase the development of science and technology innovation, the introduction and cultivation of high-end scientific and technological talents, and embark on a new path of innovation-driven transformation and development.
In the future, Zhongli Group will continue to increase investment in scientific research, enhance its independent innovation capability, strive to play the role of innovative enterprises in Jiangsu Province, and promote the high-quality development of Jiangsu in the forefront of the country, contributing to building a strong and beautiful high-tech Jiangsu!