On October 11th, ZTE's "2019 ZTE Cable & Engineering Materials Cooperation Technical Quality Exchange Conference" was held in Shenzhen Xili Industrial Park. The conference promoted the 5G product quality control strategy and the EU's new RoHS2.0 regulations. The conference was attended by more than 30 suppliers. Zhongli Group won the "Best Quality Performance Award of the Year" from ZTE in 2019 for its excellent quality performance.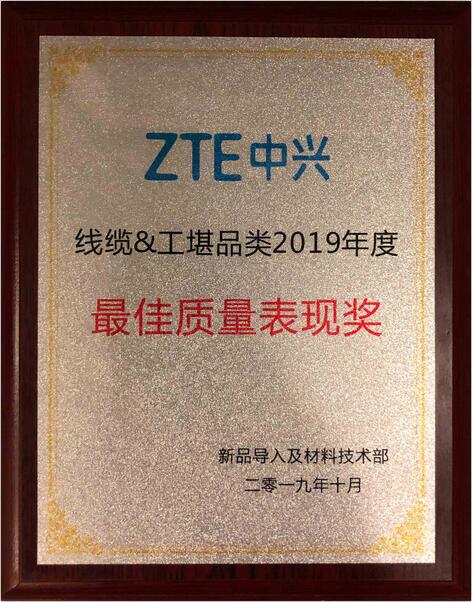 The conference put forward the theme of [using new materials, new technologies, new processes, better technology, lower cost, faster delivery and more reliable quality], and strengthen communication with various partners. It explains the opportunities for the communications industry to enter the 5G era and the higher requirements for compliance with the implementation of the new EU RoHS 2.0 regulations and the product quality control program for the cable & industrial materials industry. Zhongli Group emphasizes the management policy of "Quality First, Delivery Second, Cost Third" to find a scientific management plan and strive to create a comprehensive competitive 5G era product.
In the 5G era, the Zhongli Group's South China production base will continue to move forward with this honor. Quality is the main artery of the company's development. Zhongli Group's South China production base adheres to the "quality first" management philosophy, implements ZTE's "5G customer value creation, quality achievement 5G pioneer" requirements, enhances quality control from all links, and strictly adheres to the quality bottom line. "Zero wrong material, zero market problems, zero batch, zero CSR problems, zero environmental problems", in the cable industry to create first-class service level and professional products, better serve customers.