The Ninth Forum on Enhancing the Application of the "The Belt and The Road" New Energy Innovation and Development Forum in 2019 was held on November 28-30, 2019 in Nanjing, Jiangsu. Talesun was invited to attend the meeting. Relying on industry brand influence, product quality control and China's contribution to poverty alleviation, the company won three awards: "single top-level photovoltaic power station investment, EPC brand", "integrated multi-energy brand", and "single top-level photovoltaic module brand".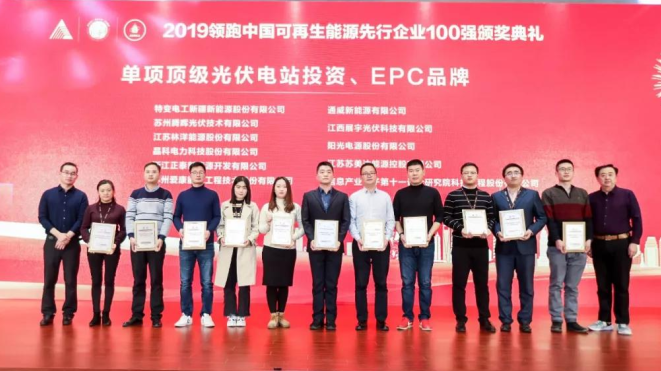 Mr. Wang Baixing, Chairman of Zhongli Group and founder of Talesun Photovoltaic, deeply plowed into the field of photovoltaics, creatively implemented the cross-border integration of "smart photovoltaic + science and technology agriculture" and filled the industry gap, and advocated and practiced the "poor village photovoltaic farm" model. Hundreds of thousands of poor people have achieved poverty alleviation and found a new development direction for industrial poverty alleviation. In recognition of Mr. Wang Boxing's outstanding contributions to the industry over the years, the organizing committee issued the honorary title of "Top 100 Leading Entrepreneurs in Renewable Energy in China in 2019".
This forum was jointly sponsored by the China Yangtze River Economic Belt Renewable Energy Equipment Manufacturing Industry Alliance and the Jiangsu Renewable Energy Industry Association. The theme of the forum is "joint innovation, high quality and efficiency, and striving to be first-class". Renewable energy industry development trends, smart energy solutions, new BIPV system roof solutions, digital intelligent distributed photovoltaic market development and other topics will be discussed.
With years of unremitting efforts, Talesun has achieved many achievements worldwide. In 2015, Talesun established a production base in Thailand. In the same year, Pengbo New Energy Finance was rated as a global first-line photovoltaic module manufacturer; 2016 In 2010, Talesun innovated and launched the "Wannong Ecological Photovoltaic" innovation project in the industry, and became a leader in domestic complementary agricultural and photovoltaic projects. At the same time, Talesun responded to the national call and entered the field of photovoltaic poverty alleviation, becoming a domestic photovoltaic "poverty alleviator" In 2017, Talesun officially launched the 315 MW power station project in Argentina, which became the largest photovoltaic project in South America; in 2018, it was named the top ten global module suppliers. As of this year, Talesun has developed and provided EPC services to more than 6GW of power stations. Based on Talesun 's contributions and achievements in the photovoltaic industry for many years, the organizing committee has awarded Talesun three awards: "Integrated Multi-Energy Brand", "Single Top PV Module Brand", "Single Top PV Power Station Investment, EPC Brand".
Talesun will continue to strengthen product R & D investment and technological innovation, while enhancing the company's own strength, while creating more value for the society and the environment. At the same time, Talesun is willing to work with the industry to promote the industry to achieve affordable Internet access, so that Clean energy is everywhere in the world.