On December 3, the "2019 Smart Manufacturing Summit" was grandly held in Suzhou Taihu International Conference Center. Mr. Chen Bohan, Vice President of Zhongli Group, attended the summit on behalf of Talesun, and accepted the "Suzhou Smart Factory" medal on the spot, which was awarded by Suzhou Vice Mayor Lu Chunyun, marking that Talesun intelligent transformation has entered a new stage.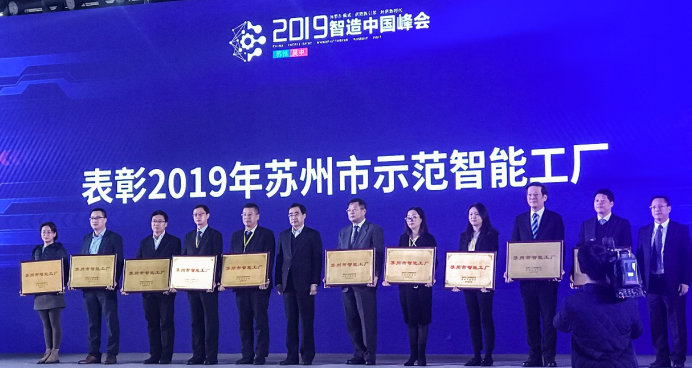 With the theme of "Exploring new models, igniting new engines, and starting a new era", the intelligent summit made in-depth analysis and extensive discussions on industry hot issues such as the development of smart manufacturing standards, industrial ecological construction, and innovative applications of new smart manufacturing models, helping China Manufacturing achieves high quality development. At the meeting, leaders of many national industry authorities, provincial and municipal leaders, and experts from various parties came to the scene and gave speeches. Talesun always attaches importance to the R & D and industrialization of new products and technologies, and is one of the few photovoltaic companies in the industry that continues to increase R & D investment. As early as the establishment of the factory, the company's product mass production equipment was already intelligent and highly automated. Although the photovoltaic industry has been affected by multiple factors such as domestic and foreign market environments and policies in the past two years, Talesun has not changed its original intention, and continues to increase the production of new intelligent and digital equipment. It has recently included domestic high-efficiency PERC production lines. Expansion and upgrading, and the upgrading and expansion of Talesun 's Thai factory.
Talesun has previously won the honorary titles of multiple provincial and municipal smart workshops. At this summit, it once again won the honor of the Suzhou Smart Factory. Reaffirmation of investment. Talesun will continue to strengthen investment and innovation in product research and development and intelligent transformation, while enhancing the company's own strength, while creating more value for the social environment. At the same time, Talesun is willing to work with the industry to accelerate the "intelligent manufacturing" upgrade, promote the industry to achieve parity on the Internet, and let clean energy spread to every corner of the world.