On the eve of the Spring Festival, the haze of the epidemic was hanging over the hearts of the people all over the country. In the face of the epidemic, every minute counts! Qinghai Zhongli Company quickly set up a prevention and control leading group, arranged and deployed related work online, built a joint defense and control front fort, and sounded the rallying cry of prevention and control war "epidemic". Actively cooperate with the work deployment of Qinghai provincial governments at all levels, strictly control personnel flow path control, ensure epidemic prevention materials are in place, eliminate and kill in public areas, positively publicize and guide employees, make various control records, strictly implement the isolation system, do a good job in the protection service of isolation personnel, and formulate emergency treatment plans for epidemic prevention and control.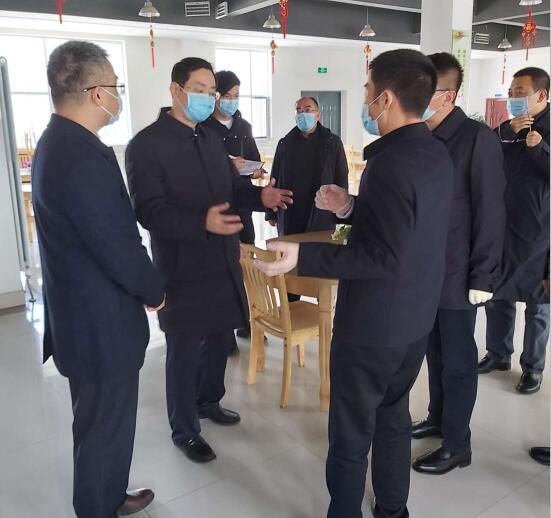 Before returning to work after the holiday, with the strong support of the group company and the active coordination of all levels of government in Qinghai province, the prevention and control materials will be fully guaranteed before February 17. under the unified command and deployment of general manager Xie kang, all employees will work tirelessly to carry out the epidemic prevention and control work day and night, and strive to achieve all aspects, ensure the safety of on-the-job personnel and ensure the safety of the isolation personnel. After all staff's efforts, Qinghai Zhongli got the government's approval for resuming work and production on February 21 after many times of review.
On February 29, Wang Xiao, member of the standing Committee of the provincial party Committee and secretary of the Xining municipal party Committee, and his party came to our company to investigate the epidemic prevention and control and the resumption of work and labor. During the whole research process, General Manager Xie Kanghe and Deputy General Manager He Xiucai accompanied him all the way. Secretary Wang Xiao spoke highly of our company's epidemic prevention and control and resumption of work and resumption of production. He praised the general manager Xie Kang for his responsibility, responsibility and courage to take the lead in winning the epidemic prevention and control war and the orderly resumption of work and resumption of production. He also asked the park leaders: the park enterprises should learn from Qinghai Zhongli's experience in epidemic prevention and control practices, workshop site management and company management. At the same time, he inquired about the current difficulties of the enterprises, and asked the Development Zone and Dongchuan Park to actively solve the difficulties of the enterprises and give policy support.