On September 10th, the 3rd China International Photovoltaic Industry Summit Forum with the theme of "New Decade of Photovoltaics Empowering New Innovation" was held in Chengdu Tongwei International Center. More than 50 leaders of relevant government departments, more than 80 experts and scholars in the photovoltaic industry, more than 400 industry leading companies and hundreds of mainstream and industry media gathered in Chengdu to discuss new paths for photovoltaic development.
In the morning, in the roundtable dialogue session, Talesun's Chairman Wang Weifeng and Leshan City People's Government Deputy Mayor Liao Kequan, Chengdu Jintang County People's Government Deputy County Magistrate, Jintang Industrial Zone Management Committee Director Zhu alloy, Jiangsu Huantai Group Chairman Wang Lubao, Wuxi Wang Yanqing, Chairman of Pioneer Intelligent Equipment Co., Ltd., Wang Yibo, Executive Dean of 11th Technology, and Yang Hao, General Manager of Wuxi Shangji CNC Co., Ltd., and other industry leaders and corporate executives gathered together to focus on "new infrastructure. new energy. new opportunities." "The theme is to explore new opportunities in China's photovoltaic energy industry in the future.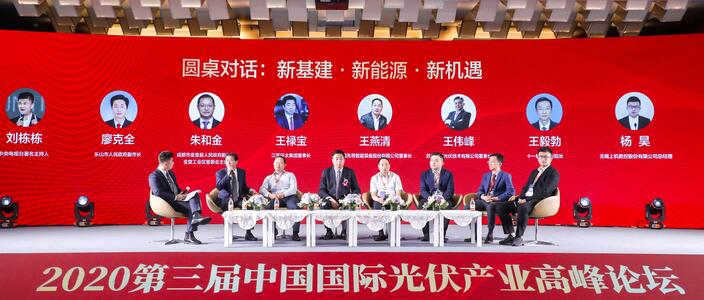 During the dialogue, Wang Weifeng made a wonderful dialogue sharing on the theme of "New Infrastructure. New Energy. New Opportunities":
"Under the influence of the epidemic, "new infrastructure" has been designated as China's new economic growth point. As a green and low-carbon energy source, photovoltaic power generation will play an important role in various sub-fields of "new infrastructure". Among them, 2020 Until 2022 is the peak investment period for 5G construction, the capital expenditure of operators will gradually increase to build a 5G commercial network that basically covers the whole country. However, most of the upgraded 5G base stations require new electricity installation, and the equipment consumes a lot of power. The power consumption is several times that of 4G base stations. At this time, "5G+PV" will become the perfect partner to solve this problem. On the one hand, photovoltaic power generation can prepare for the reduction of 5G construction costs and focus on solving the high power consumption of 5G. As a communication signal, 5G can meet the signal transmission and operation needs of photovoltaic equipment. With the rapid development of 5G technology, China's photovoltaic industry will catch up on this "fast train", and the transformation of photovoltaic enterprises to intelligent manufacturing will be greatly accelerated."
"Another new opportunity for photovoltaics is to actively participate in the construction of projects in the "Belt and Road" photovoltaic market. We should respond to the country's call to "go out". Talesun has been committed to the development of overseas photovoltaic markets since 2015. In 2017, he helped Power China complete the development of a 315MW photovoltaic power plant in Argentina. This is the largest single photovoltaic power plant in South America, and it is also the first Chinese and Arab heads of state witnessed the signing of the agreement to bear fruit in Argentina after China proposed the "Belt and Road" initiative Project. With high-quality photovoltaic modules and rich experience in plateau project construction, Talesun has helped Argentina's Jujuy Province complete the transformation from purchasing electricity from other provinces to achieving self-sufficiency in electricity at one stroke. We can see that the new infrastructure boom has arrived. Photovoltaic power generation is about to welcome new opportunities."
Talesun has been committed to the "PV+" development model, actively developing the latest requirements for the practical development and application of photovoltaics in the future, and keeping pace with the times to optimize and improve photovoltaic technology, development, intelligent operation and maintenance, project management, supply chain capabilities, Business model innovation capabilities to achieve better integrated production and value delivery. In the future, Talesun will take more efficient, longer lasting, and higher yield as the standard, closely follow the new energy demand, seize new energy opportunities, and actively promote the development of the world's energy transition.