On June 28, in order to celebrate the 100th anniversary of the founding of the party and to welcome the centenary of the party, the Zhongli Group celebrated the 100th anniversary of the founding of the Communist Party of China at the headquarters of the group. More than 200 party members including group party committee members, branch secretaries, party officials, all party members, trade union chairman, youth league secretary, and director of the Women's Federation attended the meeting.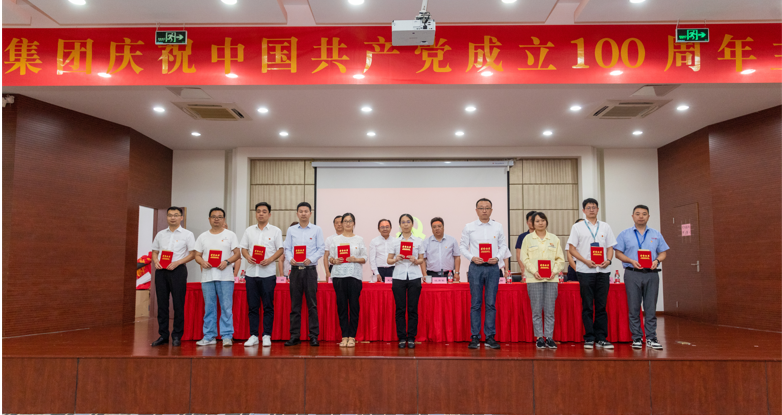 Build the foundation of faith together and stabilize the rudder of thought. At the meeting, the group party committee members headed by party committee secretary Wang Boxing issued honor certificates to 10 outstanding party members to encourage them to perform outstandingly in the annual work. On behalf of the company's party committee, Wang Boxing, Secretary of the Party Committee of Zhongli Group, extended holiday congratulations to all party members and delivered a keynote speech. Shen Yujun, Secretary of the Party Committee of Shajiabang Town, was invited to attend the meeting and make a speech.

Finally, the poem recitation "We Are Light Electricity and Green Flame", written and directed and performed by employees of Zhongli Group, demonstrates Zhongli people's courageous hard work, unswerving determination, unforgettable original aspiration, and the spirit of industry to serve the country. The purpose of "serving the people wholeheartedly" and the style of hard work have been adopted.

Over the years, the Zhongli Group's party committee has always adhered to the party's leadership, inherited the party's "red gene", united and led the majority of cadres and employees, thoroughly implemented the central government's new development philosophy, coordinated the promotion of production and operation and sustainable development, and laid a foundation for the group's stability and long-term development. solid foundation.

The party committee of Zhongli Group requested that all branches of the group should combine the in-depth study and implementation of Xi Jinping's thoughts on socialism with Chinese characteristics in the new era, the decisive victory in building a moderately prosperous society in all respects, the decisive battle against poverty, and the development of the group and the work of party building. Under the new situation of normalization of epidemic prevention and control, meticulous planning and overall planning are carried out, so that party members and cadres can be educated, and employees can benefit from the original mission.
A hundred-year journey and a hundred-year dream, to celebrate the birthday and follow the party. For one hundred years, the Communist Party of China has always adhered to its original aspirations and mission, led the Chinese people to work tirelessly, and delivered an excellent answer that can stand the test of history and the people. In the future, Zhongli Group will continue to strengthen its conviction, always follow the party and forge ahead on a new journey.