Talesun recently held an expanded management meeting at its Changshu headquarters. Chairman Wang Weifeng, President Dong Shuguang, and managers from all departments of R&D, manufacturing, marketing, finance, administration and other companies gathered together to summarize and reflect on the problems and deficiencies in the operation and management in 2021, and to clarify the operation and management work. Requirements and ideas, and look forward to the development plan of the company in the new year.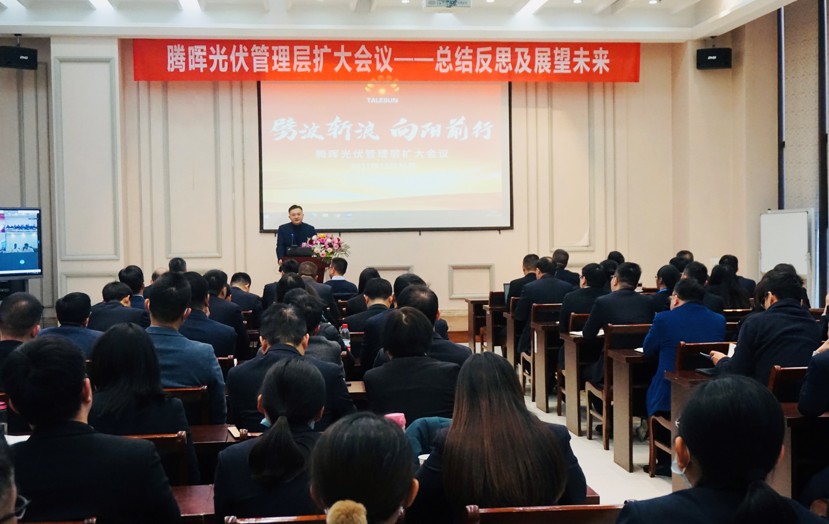 In 2021, the new installed capacity of photovoltaics in the world is expected to be 150GW, which is less than the conservative data predicted by the agency at the beginning of the year. Among them, China's newly installed photovoltaic capacity is less than expected. As of the end of October, the country's newly installed capacity was less than 30GW, and it is expected that the domestic newly installed capacity will not exceed 50GW throughout the year. Regarding the macro development situation of the market in 2022, Dong Shuguang is full of confidence. He pointed out: "In 2022, we will usher in a rare year of industry development, which will provide a good external environment for Talesun's rapid development. The global photovoltaic installed capacity is expected to At 200GW. The industry has experienced ups and downs this year, reminding us that supply chain security is very important. From the perspective of the supply chain, silicon materials are still the tightest link in the supply and demand of the entire industry chain. The production capacity of silicon material may reach 300GW in half a year."
2021 is the first year of Talesun's photovoltaic capacity construction. The production lines of the original Changshu headquarters and the two major photovoltaic production bases in Thailand that have completed technical transformation, as well as the new production lines of the four major photovoltaic production bases in Shandong, Siyang, Suqian and Peixian, are all planned in accordance with advanced technology and equipment. The 210mm size photovoltaic module and cell production equipment is backward compatible with 182mm size products and conforms to the development trend of large size products. In 2022, Talesun's product types will be more simplified, and the mainstream products are mainly single and double glass, 182mm large size, and 72/54 version.
In terms of enterprise operation and management, Dong Shuguang emphasized: "In 2021, our organizational vitality will be further activated and the atmosphere will be corrected, which is also our confidence in achieving our goals; at the same time, we must also be vigilant against corruption, selfishness, 'soy sauce', etc. The harm of the problem must not have the mentality of 'it's none of our business, hang up high'. In the new year, we will break the tradition of 'can only go up, not go down' in terms of salary and other aspects, and key business departments will be able to From top to bottom, we can streamline the organization and optimize the process as a whole, so as to form a benign and efficient operation mechanism; we also hope that the team will not have the idea of passing by, but continue to learn, especially to strengthen the learning of professional technology and business level, from Starting from the overall situation of the company, we will continue to create value for the company."
In the summary speech of the meeting, Wang Weifeng put forward clear expectations and requirements, he said: "I hope that through the joint efforts of everyone, we can make up for shortcomings, enhance cohesion, build an excellent and combat-effective team, and work together to complete the entire company. The goals of the year. Our goals can not just stay on the slogan. Just shouting the slogan and not taking action will not achieve anything. I hope everyone will continue to work hard in the new year. Get all the work done."