On October 12, 2022, the 15th EIF Turkey Energy Conference and Exhibition was held at IFM Istanbul Exhibition Center. As one of the most professional energy fairs in Turkey, EIF guests mainly come from government departments, energy departments, energy companies, energy organizations, etc.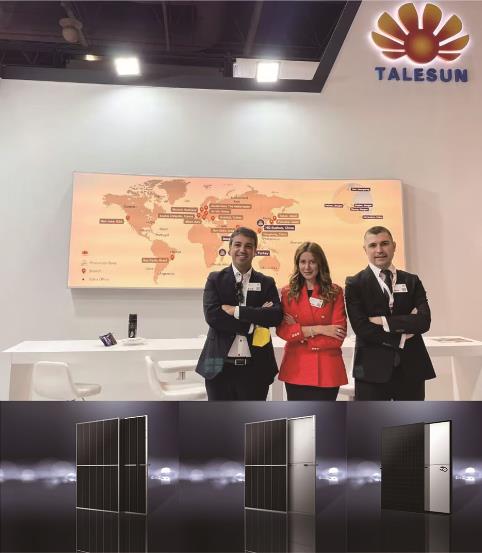 According to the local market demand, Talesun exhibited three component products including BIPRO series, BISTAR series and FEATHER (Lightweight) series. The three products all adopt large-size battery and multi-main grid design, with the product characteristics and excellent design has aroused strong interest and widespread attention of the participants, and become the focus of attention of the exhibition.
Among them, the BIPRO_TD8G66M double-sided double glass component with 210mm large size and the highest power up to 670W is particularly eye-catching in the booth. The product adopts 12BB half battery technology and new circuit design, with excellent stability and high wear resistance, weather resistance. In addition, with the addition of double-sided battery technology, an additional 5 to 25 percent of the generation revenue can be increased depending on the environment.
In addition, BISTAR_TP8F66M module integrates efficient PERC double-sided battery, 210mm large battery and 12BB half battery technology to improve the power generation efficiency of the module, unique circuit design significantly reduces the heat spot temperature, reduce power loss, can achieve the first year attenuation < 2%, linear attenuation ≤0.55%, It is the most cost-effective choice of large ground power station.
The 182mm large, 10BB half battery FEATHER_TP7F54M has a maximum power of 410W. Compared with other components, due to its lighter quality, the integrated all-black design of the product features, deeply concerned by the exhibition. This component covers an area of small, operation, in the efficient power generation and reduce the installation cost of components, is one of the first choice economic and environmental protection products!
Turkey EIF Energy Exhibition will be led by Talesun Europe team. In addition to the exhibition, the European team leaders will be invited to attend the energy exhibition. At the meeting, European team leader P Pınar gave a speech on the " Talesun R&D photovoltaic module performance and reliability overview", and European Technical director Francesco made a detailed introduction on Talesun products. The two speakers were highly recognized by virtue of their professional product knowledge and professionalism.
In recent years, Talesun has maintained close cooperation with Turkish customers. With strong product quality and innovative research and development technology, photovoltaic module sales continue to grow in Eurasia. In the future, Talesun will continue to strengthen the cooperation with Turkey, provide better and considerate services, and contribute to the promotion of global "carbon neutrality"!