Talesun and MEM Group recently signed a strategic Cooperation Framework Agreement. Under the agreement, the two sides will jointly build a solar photovoltaic module production line in Turkey with an annual capacity of 1GW. Talesun and MEM Group will focus on the strategic development needs, relying on Talesun's advantages in technology research and development, manufacturing, quality management, sales network, supply chain integration and other fields to carry out multi-directional cooperation, work together to explore overseas markets, complementary advantages, mutual benefit and win-win.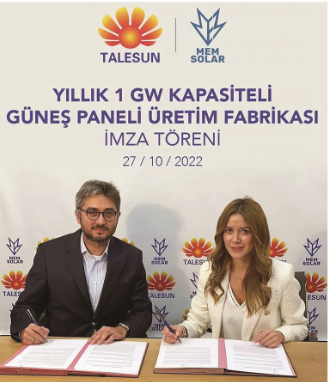 Founded in 1993, MEM Group is a leading global supplier of machinery, manufacturing and electrical services. Ahmet Teyfik Paksu, Vice President of MEM Group, said: "Under the agreement, the two parties will build a component production line in the province of Qahramanmarash in south-central Turkey. The plant covers 40,000 square meters and aims to reach an annual capacity of 1GW by the second quarter of 2023. The layout, equipment and raw materials of the plant will be supported by Talesun."
Through this cooperation with Talesun, the company will further participate in the Turkish photovoltaic market, give full play to the advantages accumulated in the industrial field of MEM Group and Talesun global sales channels, optimize and expand the overseas layout, and then open the target markets such as the United States and Europe.
P F nar Eser, head of sales for Talesun Europe, said: "This strategic cooperation agreement reflects the real drive and determination of Talesun to strengthen international co-operation. Talesun has a 20% market share in Turkey, and the new module production line will start production in 2023. "We expect to complete the introduction of the new TOPCon technology production line and stable mass production in 2024. We will continue to improve the design and production process to meet the needs of different customers."
As one of the world's leading high efficiency photovoltaic module manufacturers, Talesun has accumulated deep technical reserves in the field of high efficiency photovoltaic cells and modules. At present, the company has the industry leading mass production technology and capacity advantages. In the future, Talesun will be based on the innovation and development, mutual benefit and win-win cooperation mode, to provide first-class solutions for the photovoltaic market applications at home and abroad, promote the local photovoltaic industry in Turkey to understand the value of reliable products, and continue to create value for the global photovoltaic industry.