Suzhou Talesun Technology Co., LTD. (hereinafter referred to as " Talesun ") and French energy company NEOEN recently signed a strategic cooperation agreement on the current situation and future development of the European photovoltaic industry.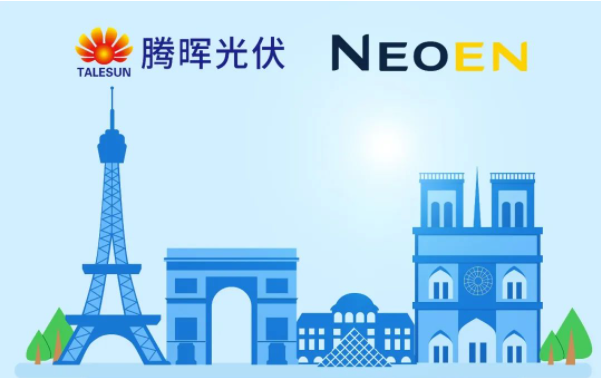 French renewable energy giant Neoen is one of the few public companies in Europe focused on renewable energy. As a leading independent renewable energy producer in France, the company had installed 5.6GW of renewable power by the end of June 2022, and is expected to achieve a target of 10GW by 2025.
In 2022, electricity prices in Europe will soar. Facing energy crisis, EU countries are accelerating their energy transformation and energy independence plans. According to the report released by the Photovoltaic Industry Association of the European Union, in 2021, 25 of the 27 member states of the European Union saw a month-on-month increase in photovoltaic installed capacity, with the overall new photovoltaic installed capacity of 25.9GW, breaking the 10-year record of single year installed capacity. By the end of 2021, the cumulative installed photovoltaic capacity in Europe reached 164.9GW. According to the European PV Market Outlook 2021-2025 released by SolarPowerEurope, the installed PV capacity in the EU will reach 672GW in 2030, that is to say, 56.3GW will be added annually before 2030.
The accelerated growth of European market demand has brought great opportunities to Chinese photovoltaic companies. From 2021 to the first half of 2022, Talesun shipped 805MW in Europe, of which 349.5MW was shipped in France.
In the construction process of overseas power stations, Talesun follows the local natural environment and ADAPTS to local conditions. Based on local customs and respect for history and culture, Talesun designs sustainable photovoltaic power stations in line with local characteristics. Previously, Talesun has developed a number of landmark photovoltaic power station projects in Europe, including the United Kingdom, Germany, France, Switzerland and other countries.
Mr. Xing Yabin, Senior Vice President of Talesun, said, "The strategic partnership between Talesun and Neoen is based on the strength of their respective market competitiveness and technical resources in the field of photovoltaic. We are very proud to have a strategic partnership with Neoen, a leading company in the world's renewable energy industry, to build high-quality PV power plant projects through efficient and reliable PV modules. In the future, Talesun will focus on expanding the European market, providing better and more efficient photovoltaic solutions, and contributing to the development of renewable energy in Europe."