On March 28, 2023, a delegation led by ARTsolar Chairman BEBINCHAND SEEVNARAYAN, General Manager VIRENDRA GO SAI, Business Manager SHALENDRA HANSRAJ, Factory Manager SHEKAR INDERLALL, and Project Manager KERSHLYN GOVENDER visited Talesun. Talesun Chairman Wang Weifeng and other senior executives warmly received them.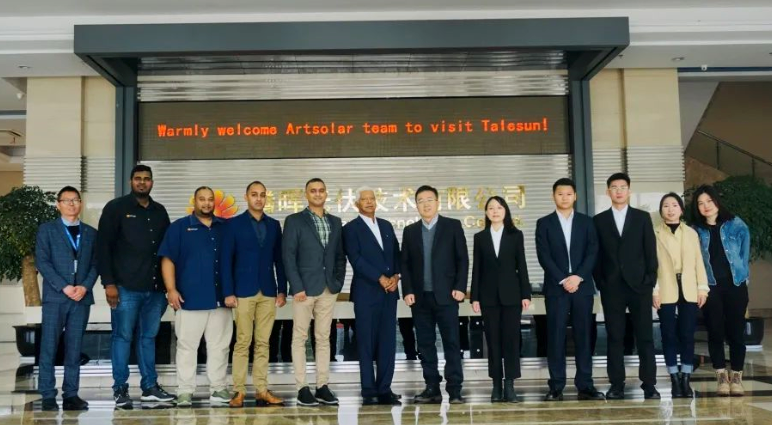 ARTsolar was established in 2010 and has the most advanced solar module production line in South Africa, with a current production capacity of over 325MW, enjoying a high reputation in the South African photovoltaic industry.
This visit has been highly valued by the senior management of Talesun. The interview meeting was personally hosted by Mr. Wang Weifeng, Chairman of the company, Mr. Zhang Jinchun, Executive Vice President, and Mr. Xing Yabin, Senior Vice President. Both parties have a comprehensive discussion on project development, technical services, system solutions, marketing cooperation, and other areas. After the meeting, Xing Yabin, Senior Vice President of Talesun, and others led a tour of the company's exhibition hall, factory production line, and Wannong demonstration project.
ARTsolar's visit this time expressed recognition for the quality and technical services of Talesun products. The 325MW photovoltaic module production base jointly constructed by Talesun and ARTsolar in 2022 has officially been put into operation in South Africa. ARTsolar looks forward to conducting more, deeper, and larger scale project cooperation with Talesun, and working together to build a better South Africa!