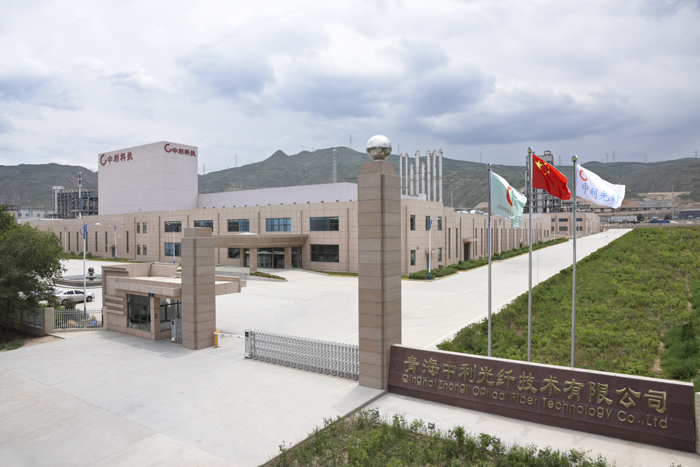 Qinghai Zhongli Optical Fiber and Cable Co., Ltd. is a high-tech enterprise that produces both optical ber preform and optical ber. It is invested in Xining city, Qinghai province by Zhongli Group Co., Ltd. (Stock Code: 002309). Main products are: optical ber preform, G652 series ber, G655 series ber, G657 series ber and all kinds of special optical ber. The annual output of optical ber preform is 400 tons and 13 million km for all kinds of ber. It is one of the best ber production base which has large-scale and industrialized development of outside deposition technique in China.
Qinghai Zhongli is located in Xining where has rich natural resource and close to the largest production base of polycrystalline silicon in northwest. Qinghai Zhongli implements philosophy of developing circular economy, green manufacturing and sustainable development together, using the advantage of price, abundant, electricity, natural gas and other energy resources and the by-products from the production base of polycrystalline silicon (SiCl4).
Qinghai Zhongli is dedicated to reduce the cost of communicationand improve the quality of products. Moreover, Qinghai Zhongli has introduced many mature patents, proprietary technology, the producing technology and equipment of the latest ACD/OVD ber preform production. What's more, deposition rate and deposition efficiency has reached the international advanced level. Qinghai Zhongli has broken through the domestic traditional technology and built the automatic production line which has the international advanced large diameter, high speed preform production and ber drawing process. The products fully comply and exceed the standard of the domestic 3 major telecomcarriers'standard and the optical-electrical industry standards. Meanwhile, the products exceed the national standard and the ITU standard. Qinghai Zhongli can provide high-quality products for domestic and international markets.
Qinghai Zhongli has lots of leading experts in this industry who have many practical experience and theoretical foundation. They make up the core management team and RD team. There are total more than 400 employees who have excellent ability of researching, producing and managing. What's more, Qinghai Zhongli has established a perfect quality management system, environment management system, occupational health and safety management system and strict enterprise standard.
We are holding the enterprise spirit of Honor, Devotion, Unity and Innovation. Qinghai Zhongli is responsible for the speed of information transfer and the safety of information. What's more, Qinghai Zhongli will provide the safe and reliable products and high- quality service for customers in order to meet the requirement and expectation from customers.