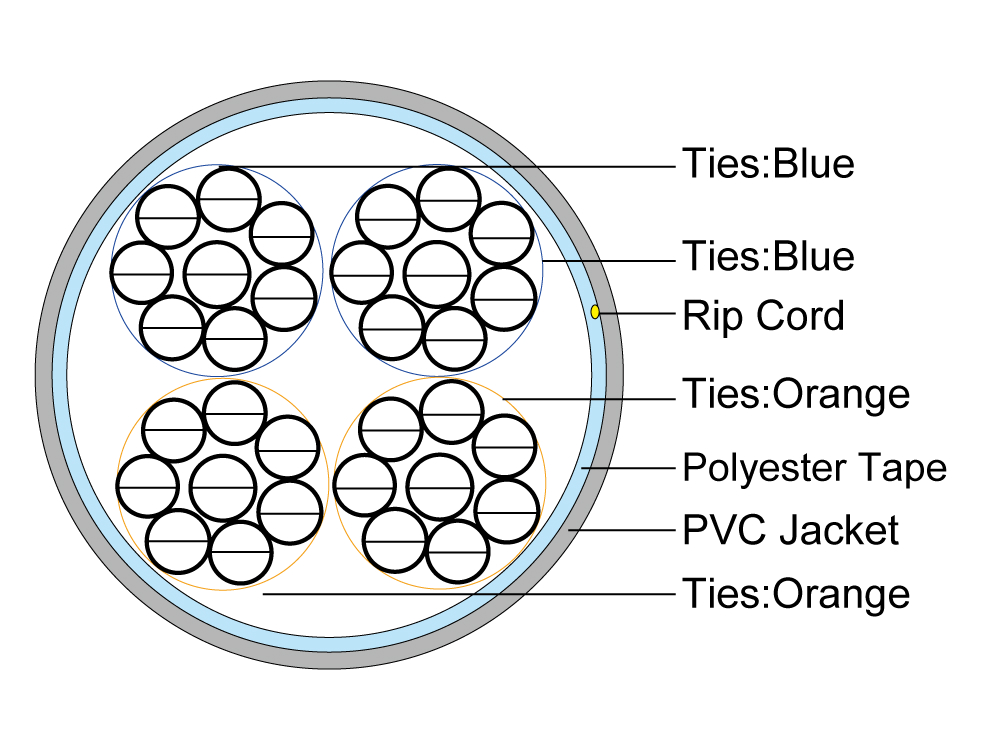 Applications
It is mainly used as the feeder line or distribution wire in the communication system.
Features
1.Operating temperature is -15℃—75℃.
2.Nominal rated voltage is 300V.
3.Cable structure of cable: the number of twisting pairs can be different according to customer's requirements. The cable has good flexibility.
4.The shielded cable has remarkable capacity of anti-interference.
5.Minimum bending radius is 8 times of O.D. the cable.
Technical parameters
1.Conductor: annealed bare copper round wire with diameter of 0.40, 0.50 mm.
2.Insulation: insulation material is PE, in accordance with the previsions of the whole chromatographic standard colors, has good dielectric strength and meet the impedance requirements.
3.Cable core structure:in accordance with customer's requirements,has differentnumbers of pairs to meet 2P-128P production. It should be standard according to different lays, in order to reduce maximally the crosstalk. Need to adopt the provisions of color combinations in order to identify the different units.
4.Sheath: according to different installation occasions, offer different types of materials of outer sheath, to meet the requirements of flame retardant. Identifying marks on the cable, indicating: models, characteristic impendence, the number of pairs, conductor diameter, manufacturer and production date. According to customer's requirements or installation environment, provide various number of twisting pairs and different insulation structures.
Products
SBYV(P)-100 Copper conductor polyolefin insulated Broadband chromatogram subscriber communication cable, characteristic impedance-100.