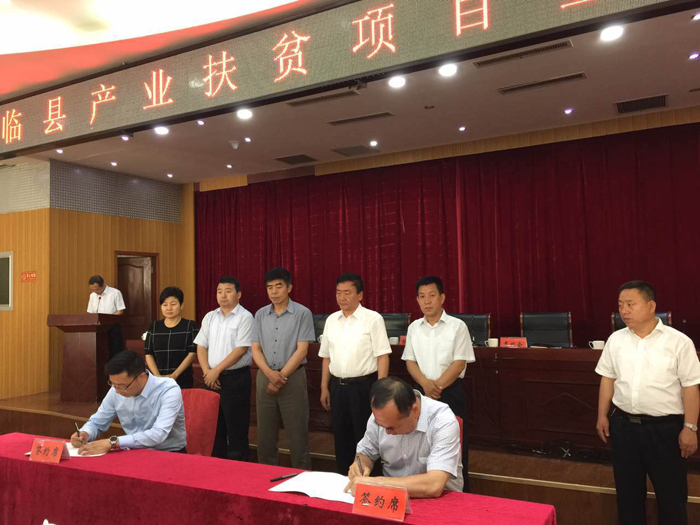 Under the mobilization and strong support of the working team on Poverty Alleviation of the Group, Zhongli Energy Technology, as a newly established company, actively responds to the group's arrangement and battle in the city of Liliang, Shanxi Province.
June 13, 2017, Xuzhou Zhongli Energy Technology Co., Ltd. (hereinafter referred to as "Zhongli Energy") and Lin County, Liang City, Shanxi Provence signed "industrial group, Package counties poverty alleviation -- village-level" photovoltaic pro-poor farm "pro-poor agreement in " Lin County's industry poverty alleviation to the village to the household promotion meeting and the five cities of the mobilization Meeting" in Lin County government office, which aimed at the innovation of the group's" Smart Photovoltaic + science and technology agriculture "efficient cultivation, breeding leading technology and Lin County existing resources combined application, local conditions, With centralized photovoltaic power station, village-level photovoltaic power station planning combined to help Lin County out of poverty work. Lin County has a total of more than 600 villages, including 485 poor villages, and the current 450 poor villages have not yet lifted out of poverty. Lin County, county government leaders are highly concerned about it, and have been focusing on the poor village precision poverty alleviation work.
Mr. Zhang Song, vice president of Zhongli Energy, Mr. Gao Zerong, the county Standing Committee, deputy County Magistrate signed the cooperation agreement as representatives of both sides, Lin County secretary Zhang Jianguo, county Magistrate Li Shangquan and other leaders jointly witnessed the signing, and Tian Heping, the director of Zhongli Energy Shanxi region also joined. The cooperation between the two sides will be in the field of photovoltaic in-depth, multi-faceted cooperation, not only for the economic development of poor villages to provide industry and experience support, the realization of industrial and resource docking, and resources and capital docking, but also conducive to the local poor village land resources comprehensive utilization, to enhance the economic benefits of ECO.