On the morning of February 28th, the "China Private Science and Technology Development Contribution Awards Awarding Conference" hosted by the China Private Science and Technology Promotion Association and the China Science and Technology System Reform Research Association was held in Beijing. Zhongli Group won the new honor - "Excellent Private Technology Enterprise Award".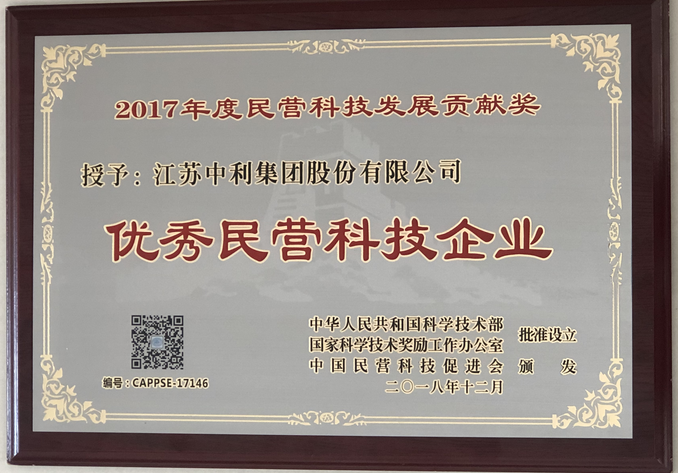 The "China Private Technology Promotion Association Private Technology Development Contribution Award" was approved by the Ministry of Science and Technology and the National Science and Technology Awards Office. It mainly commends the major contributions made by private technology enterprises in the development of private science and technology, and rewards private scientific and technological personnel in industrial technology innovation. Units and individuals that have promoted outstanding scientific and technological innovations in economic development and encouraged active efforts in the development of private science and technology have become important awards for private technology companies nationwide.
The content of the awards conference was awarded by the "2017 Private Technology Development Contribution Award" Award Ceremony + "2018 Annual Private Technology Development Contribution Award" Awards and Implementation Rules + "2019 China's Macroeconomic Situation Analysis and Forecast" + "Kechuang Board" The interpretation of the implementation rules + patent information system, enterprise patent strategy application and case analysis are composed of six major forms, gathering 151 high-quality private enterprise resources and sharing advanced experience. The conference further summarizes the entrepreneurial experience of the company, publicizes advanced deeds, and encourages enterprises to innovate and develop. Further establish and improve a long-term mechanism for communication and exchange between relevant government departments and private entrepreneurs. Consolidate and expand the platform for innovation and development of private science and technology, in order to promote private technology in the new era with new construction and greater achievements. The conference focused on the status quo and future of private enterprises, as well as the analysis of the 19-year China's macroeconomic situation and the interpretation of key policies to help the technological innovation of private enterprises in the new era.
The award was declared by the enterprise, and after a series of rigorous research and evaluation by the expert review committee, the outstanding private technology enterprises were finally selected through layer-by-layer screening. Our company has outstanding performance in independent innovation, and at the same time marks that our research and development capability has reached a higher level. Obtaining this honorary title is not only affirmation and encouragement for our company's technical research and development strength, but also a spur to our company's follow-up development. It is another important milestone in the development history of our company. It has contributed to the development of Zhongli brand and also enhanced the popularity of Zhongli brand in the domestic cable industry.