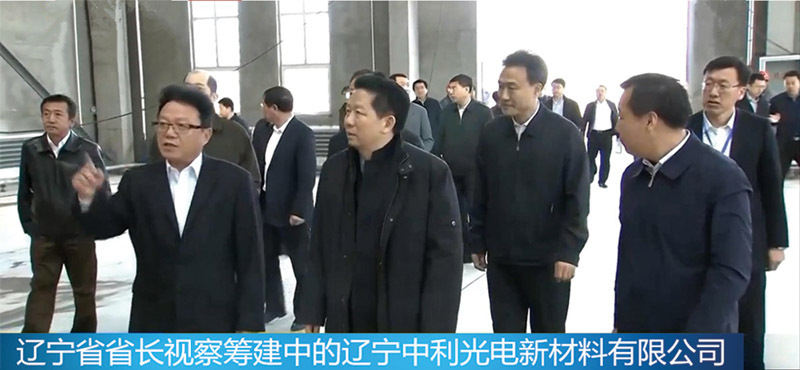 In the morning of 15th April, Chen Qiufa Governor of Liaoning Province, Tan Zuojun Deputy Governor, Wu Yesong City Party Secretary of Tieling city , Jiang Zhou mayor of Tieling and other team members, inspected the preparation of the Liaoning ZhongLi New Materials Co. Liaoning ZhongLi Photoelectric New Materials Co., Ltd is a joint venture of Changshu photoelectric Company and ZhongLi (Liaoning) Compan, Feng Jian general manager of ZhongLian New photoelectric and Sha Zhiwei, general manager of operations accompanied the whole inspection.
During the inspection Chen Qiufain listened carefully to the report by Sha Zhiwei and Feng Jianxin and he asked many questions about the preparation process and some other urgent problems in detail and gave many constructive comments. He also give full recognition to the process of the preparation of the project.
Guan Jinghua, general manager of ZhongLi (Liaoning) company, Wang xiange te Deputy General Manager accompanied the inspection and made a presentation of the ZhongLi Group's other investment projects in Liaoning Province. Chen Qiufa praised the work that ZhongLi Group has done in the northeastern region of china, and promised that the government would give great support in the relevant policies.
Finally, Chen Qiufa told the team that enterprises should start from the production,targeting the needs of customers , and continuously adjust the product structure, to win the market with high-technology products and personalized services .