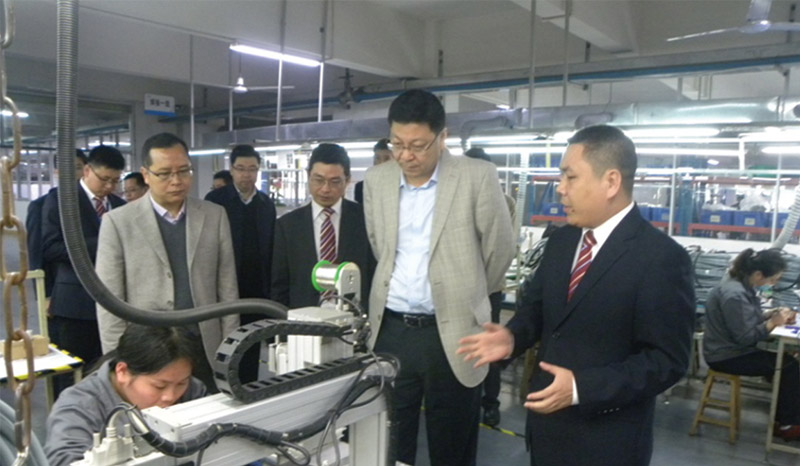 Recently, Bai Tao, member of Dongguan Municipal Committee and Minister of the Organization department and his team did a survey about the recruitment and service of enterprise in ZhongLi South base.
Wu Xianfeng, general manager of ZhongLI South base introduced that the company's policy on employees is to train and recruit and use insist on bringing in, going out strategy to strengthen human resources to make it sufficient for the company's development. From the grassroots people, the grassroots managers to middle level managers to build a reasonable rational and scientific employees pyramid echelon. As a private enterprise, the company cares much about CCP members, so we set up a CCP branch in our factory, insist that CPP members should be a model both in life and work.
Bai Tao learned the company's work and employee policy, he pressed that DongGuan is under the big economic transformation and upgrading process,, enterprises are the pioneers in this process and should take the great responsibility, as a High-Tech enterprise ,ZhongLi South base has great importance in Dongguan, while doing the job about the transformation process , enterprises should also focus on the recruitment and services job. The government of Dongguan City and the relevant departments will continue to focus on supporting companies to solve all kinds of problems and so that to promote the enterprise to make a progress.
Managers in ZhongLi South base pressed that the company is much thankful for support from the government and some departments, ZhongLi South China base will continue to create a wonderful enterprise culture to attract excellent employees, and to promote employees to by building a scientific rewarding system, to make employees stay in the company by improve service for employees, and the last but not least, ZhongLi will continue to use the company's own core technology to create a domestic large-scale leading backbone enterprises in the cable field.
Wu Xueming vice Minister of Dongguan Municipal Organization Department, Zhang Yaohong the party secretary of Dongkeng county joined this inspection with the team.