Recently, the Suzhou City Federation of Industry and Commerce has ranked the "Top 50 Private Enterprises in 2019" list according to the 2018 annual operating income index. Zhongli Group ranks No. 9 in the top 50 private enterprises in Suzhou.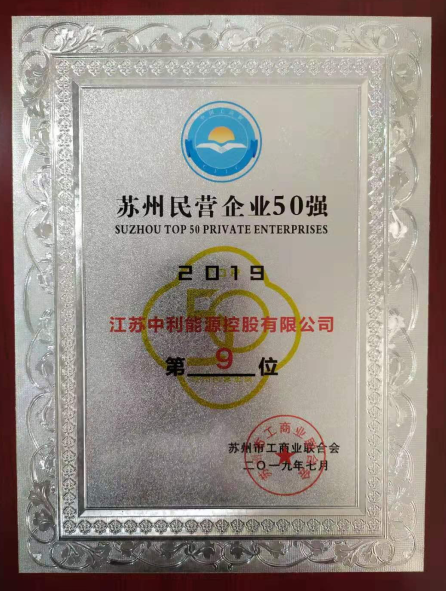 The list of the top 50 private enterprises in Suzhou is scheduled on the basis of extensive mobilization by all levels of industry and commerce associations and private enterprises to participate in the survey. It aims to highlight the development strength of the private economy in Suzhou and further promote the high-quality development of the private economy.
It is reported that the "2019 Suzhou Private Enterprises Top 50" operating income threshold was 3.549 billion yuan, an increase of 506 million yuan over the previous year. Previously, Zhongli Group has been ranked among the top 500 private enterprises in China and the top 500 private enterprises in China for many years.
In recent years, under the pressure of the global economic slowdown and the opportunity of 5G commercialization, Zhongli Group has actively adjusted its industrial structure and accelerated its adaptation to the new economic situation. Through the improvement and upgrading of traditional formats, we will continue to improve the industrial chain and achieve diversified development.
Zhongli Group will continue to follow the national policy, attach importance to personnel training and scientific research team building, strengthen innovation advantages, brand advantages and competitive advantages, further comply with the new situation, new changes and new requirements, and make positive contributions to the city's high-quality economic development.