Recently, the Qinghai Provincial Safety Production Committee commended enterprises and individuals with outstanding safety performance in the province in 2018. Qinghai Zhongli Optical Fiber Technology Co., Ltd. was selected as "2018 annual safety production advanced enterprise", and EHS manager Ji Xiaoyun was Selected as "2018 annual safety production work advanced individuals."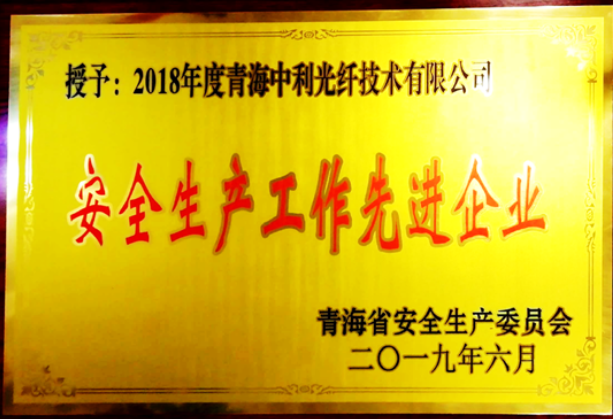 In 2018, under the guidance of President Xie Kang, the company's EHS manager Ji Xiaoyun actively mobilized and guided the company to carry out safety production standardization work, so that all aspects of the company met the requirements of relevant safety production laws and regulations and standards, and achieved good results. Develop a safety production training plan, make overall arrangements for new employees, special operations personnel and all staff safety training tasks, and implement them throughout the year to ensure that new employees are qualified for training, special operations personnel are certified, and all employees are employed. The safety awareness is steadily improved; the hidden dangers of accidents in special periods and key links are investigated, routine inspections and special inspections of safe and civilized construction are carried out, strict rectification is carried out, and closed-loop management is emphasized, ensuring 100% rectification rate of hidden dangers and preventing the occurrence of safety accidents; Promote safety score management within the company, enhance employees' sense of participation and honor in safety work, and improve employees' safety awareness.
Thanks to the efforts of all, the safety work has yielded fruitful results. However, there is a long way to go in safety production. In 2019, Qinghai Zhongli will work harder to further raise awareness, compact responsibility, and take a highly responsible attitude to truly implement the various measures and requirements for safe development. Promote safe production to a new level.